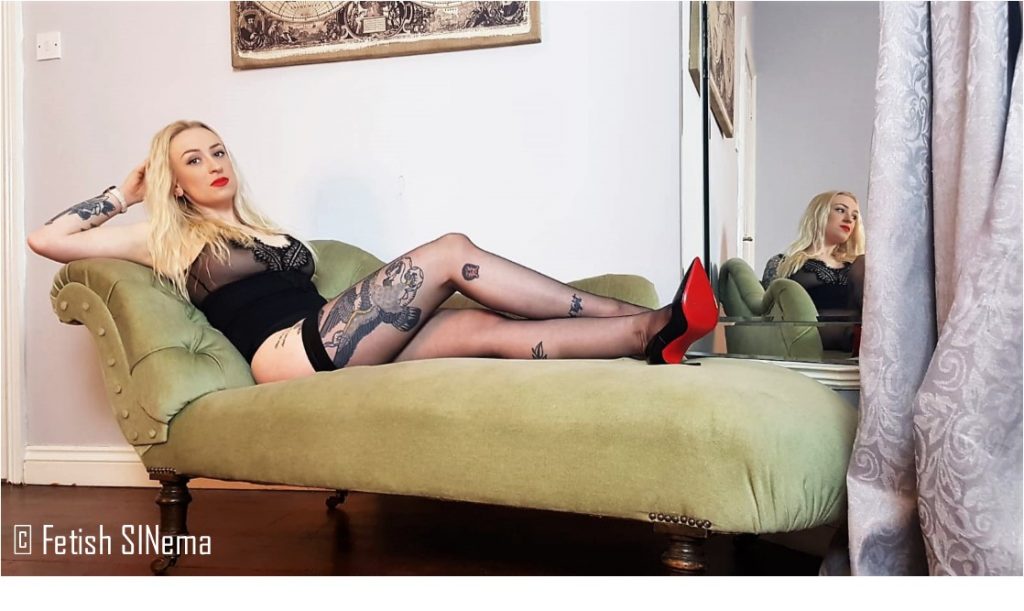 ---
subs, slaves, sissies and sluts,
I present to you the recent launch of my joint project Fetish SINema.
---
What is Fetish SINema?
For those of you who have yet to notice the launch of my new filmography project, Fetish SINema is the result of a collaboration between myself and my good friend, Miss Kendal. With our combined skills, interests and passions we aim to produce a high quality Femdom clipstore to delight and terrify in equal measure!
---
What kind of content does Fetish SINema produce?
Starting off small and gradually building, we are producing Femdom content of all kinds. Our store already contains a variety of fetishes suitable for all manner of perversions! A fan of feet? Into strap-on sluttiness? A latex lover? Swallower of spit? You will find something to delight your desires in our store, along with many other Femdom fetishes, and the store will only keep growing!

---
How often does Fetish SINema produce new content?
With our main focus on quality over quantity, we are currently releasing a brand new clip every week. That's right, every Sunday you can indulge in your submissive desires and binge on the latest content. Watch out for bumper weeks in the future with multiple releases!
---
Does Fetish SINema take custom clip orders?
At the moment we have a long list of clips we're looking to produce, so we're not currently accepting custom orders. Don't despair though my desperate deviant, it won't be long before we're able to open occasional filming slots to film your personal fantasies! Keep watching our social media for updates.

---
Will Fetish SINema be featuring any other Dommes?
Yes! At the moment, the clipstore is slowly filling with new content featuring me with some of my slaves. As our schedule clears and our technical skills increase, we will be opening up the store to collaborate with other Dommes, subs and models from the fetish scene. Miss Kendal will also be making an appearance later in the year so keep your eyes peeled for plenty of wonderful Femdom fantasies coming your way!
---
Can I apply to be a filming slave for Fetish SINema?
Experienced and reliable filming slaves are welcome to make initial applications to film with us. At present, we have no specified dates to film with new people though we have larger projects in mind for the coming months and will be building a small database of suitable candidates. Identity concealment is usually not an issue. References are requested and deposits required for shoot days. Email your application to FetishSINema@gmail.com. Please be patient when waiting for a response.

---
I am a Pro-Domme, can I contact Fetish SINema to collaborate?
We will be looking to collaborate with other pros later in the year. Please feel free to contact us and discuss your ideas. We'll also be offering shoot packages where we can film and edit your content for you to sell. Follow our social media account or email us for more information.
---
How can I support Fetish SINema?
Do you want to show your devotion and help Fetish SINema to grow? Maybe you'd like to donate towards new filming equipment or larger shoots? All support is welcome and greatly appreciated. Aside from buying our clips, you can support by sending UK Amazon Gift Cards to FetishSINema@gmail.com or contact us for UK bank details.

---
Where can I find & follow Fetish SINema?
You can follow us on our Twitter account to see all of the latest news, updates plus vote in polls, watch the previews and be the first to hear about exciting opportunities.
Follow Fetish SINema on Twitter here.
Do you want to take a look through our creative catologue of clips? Do you want to drool over your Mistress?
Use these links to take you to Femdom heaven!
iWantFetishSINema.com ~ new IWC store ~ coming in July!
OnlyFetishSINema.com ~ new OnlyFans profile ~ coming in July!